Dr. William "Bill" Higgins and Judith Baker Higgins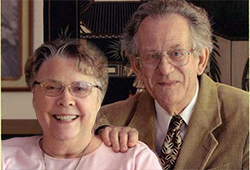 They earned their music degrees at LVC. In the process, they answered their calling and found each other.
Throughout their lives and by means of their estate plans, Dr. William "Bill" Higgins and Judith Baker Higgins, both Class of 1964, loyally have supported the College that has shaped their lives so much.
"It's payback," explains Bill. "If we hadn't gone to Lebanon Valley, I don't think we would have been nearly as successful as we were."
The Higgins cite the College's liberal arts approach as the key to their success in music education, as well as learning from both peers and professors in equal measure. It therefore comes as no surprise that their gifts today benefit both LVC students and faculty.
The couple started the Dr. James M. Thurmond Music Education Scholarship in 2005, dedicated to their most influential professor and lifelong friend. (At his former mentor's insistence, Bill also was honored to complete and publish an unfinished manuscript given to him by Dr. Thurmond before his death. The book outlines a method for new teachers who face the often difficult task of teaching rhythm.)
In quick order, the Higgins endowed two additional scholarships named for revered LVC faculty: The Frank E. Stachow Scholarship and The Thomas A. Lanese Scholarship, in addition to a fourth scholarship that bears the couple's name.
Endowed scholarships support students each year in perpetuity. Every year, four or more students receive scholarships established by the Higgins. Bill and Judith attend LVC's annual Scholarship Luncheon and are eager to meet the new students they have helped. The Higgins enjoy hearing from and getting to know these students as they progress through the often-arduous process of earning a degree.
As Bill and Judith considered their legacy, they also wished to include in their estate plans support for the Music Department and for the faculty who so deeply influenced their lives. Through a bequest in their wills, the couple will fund two endowed professorships: The William R. Higgins Endowed Professorship in Instrumental Music Education and The Judith Baker Higgins Endowed Professorship in Vocal Music Education. Through this careful and generous estate plan, Bill and Judith will preserve the excellence in music education for which The Valley is nationally known.
---
Both Dr. Bill Higgins '64 and Judith Baker Higgins '64 taught high school music after earning graduate degrees, with Bill earning a master's in music from Boston University and doctor of education from Penn State, and Judith earning a master's in education from Penn State. Bill went on to teach at the college level and Judith at the elementary level. Now retired, the two remain active members of the Bethany Village community in Mechanicsburg, all while composing music and teaching iPad classes.
The couple doubts they can ever fully stop teaching. However, the Higgins now enjoy the peace of mind in knowing they have made a positive difference for the future of music education and Lebanon Valley College-where their own life's song began.