The Miles Rigor Society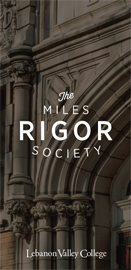 The Miles Rigor Society recognizes and celebrates alumni and friends who have planned for Lebanon Valley College's future. The Society, named after George Washington Miles Rigor—co-founder of Lebanon Valley College—was established in 1987 as the Honors Society. Members include those individuals who have made gift plans including bequest intentions, charitable gift annuities, charitable remainder trusts, insurance policies, real estate, and retirement plans for the benefit of Lebanon Valley College.
Benefits of Membership: Miles Rigor Society members receive special event invitations and exclusive recognition in the Honor Roll of Donors and on the Miles Rigor Society plaque.